Recommendations
Visionary brands and designers
using our elastic bands and cords.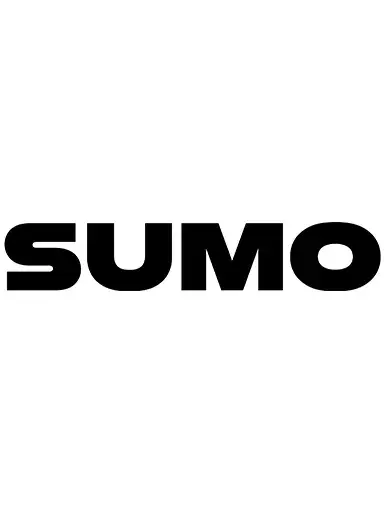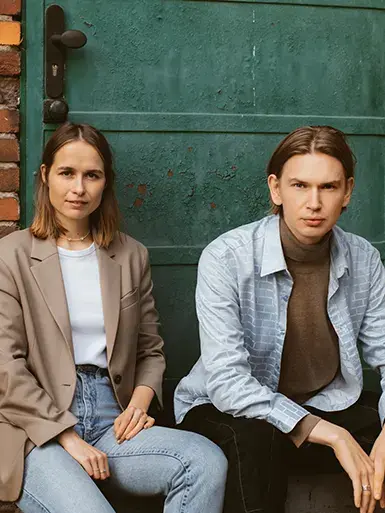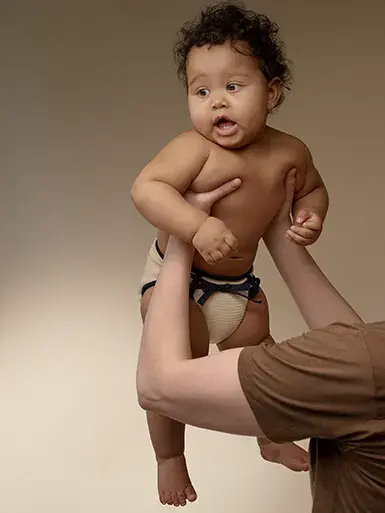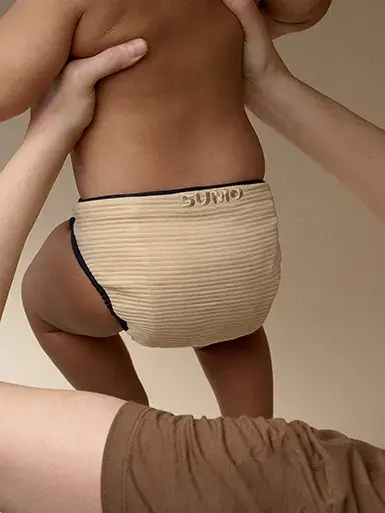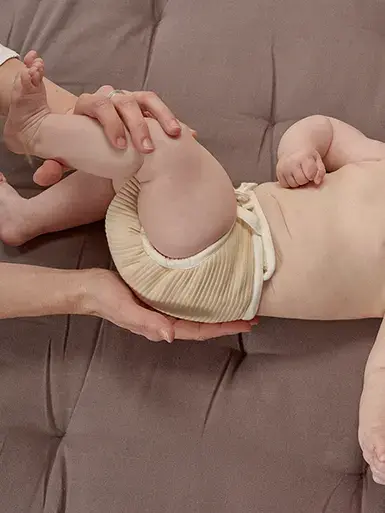 sumo has developed an award-winning reusable diaper made from sustainable and skin-friendly materials that are good for babies and our environment. Addressing all pain points, Sumo's diapering system makes it easy and joyful for parents to maximize their positive impact and provide the best for their babies. With pioneering, innovative materials and hassle-free, intuitive product design - they are taking sustainable baby care to the next level.
Luisa, founder of sumo:
We strongly believe we are responsible for what we produce and that it doesn't end up as waste. On our journey to 0% plastic in all our products, we felt that CHARLE's woven elastic had bridged the gap between responsibly sourced and conventional. It's not just about what the product is, but also about how it is sourced and the people that contribute to its creation.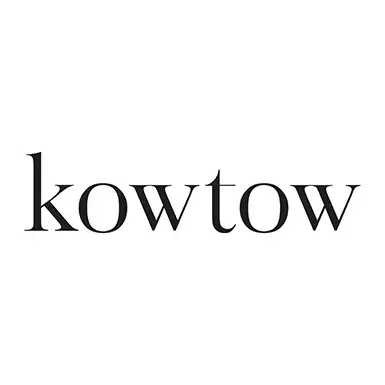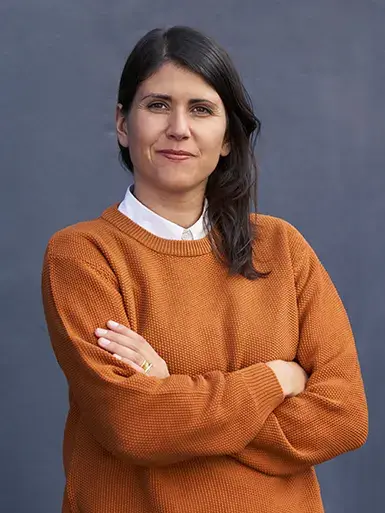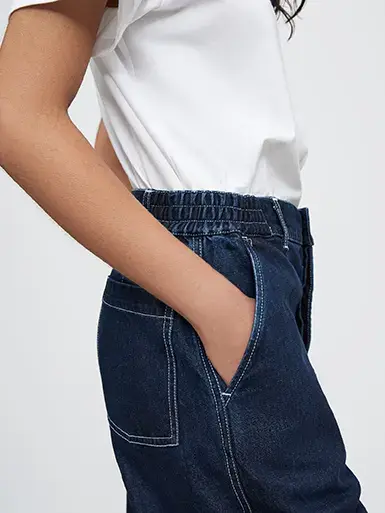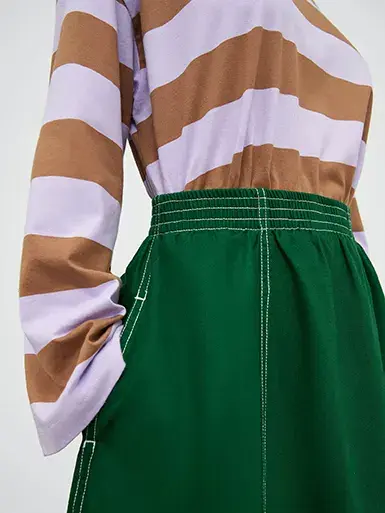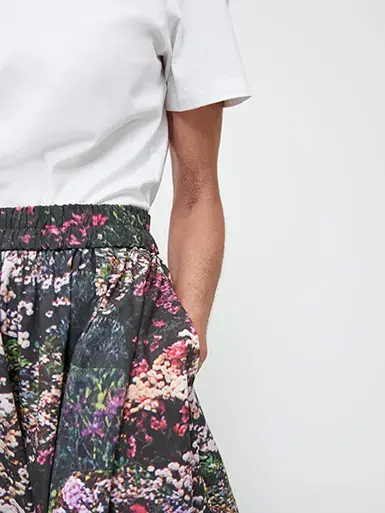 Founded by Gosia Piatek in 2006, kowtow is a seed-to-garment brand, made entirely from 100% Fairtrade certified organic cotton.
Gosia believes that clothing is a vessel for a much bigger concept towards a healthier planet and a fairer world. Determined to create a positive environmental contribution, kowtow works with nature to provide people with a natural and circular clothing solution, whilst working in sustainability and innovation.
Gosia, founder of kowtow:
We strongly believe we are responsible for what we produce and that it doesn't end up as waste. On our journey to 0% plastic in all our products we felt that CHARLE's woven elastic had bridged the gap between responsibly sourced and conventional. It's not just about what the product is, but also about how it is sourced and the people that contribute to its creation.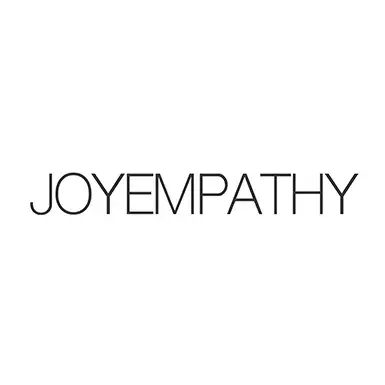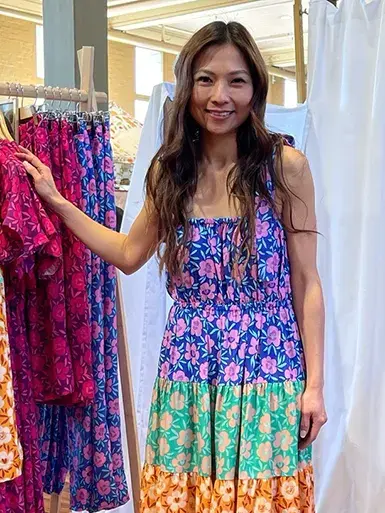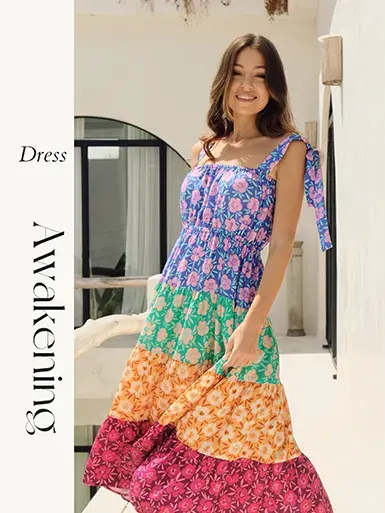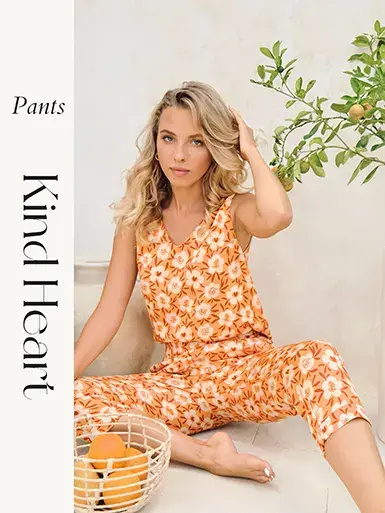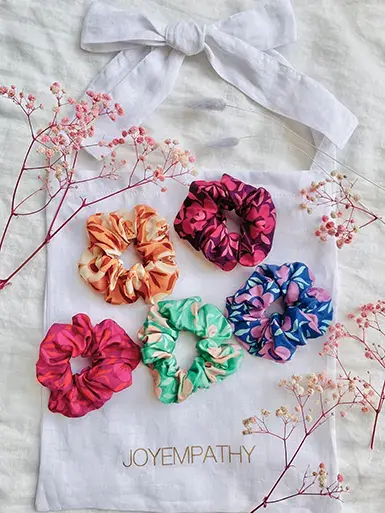 JOYEMPATHY is an Australian sustainable petite fashion label celebrating women and Mother Earth. Designed and founded by Alyssa Thai, their empowering collection combines luxe natural fabrics, planet-safe raw materials and ethical makers for purposeful garments you can wear and love for a lifetime, then safely return to nature. JOY for fashion, EMPATHY for Earth.
Alyssa, founder of Joyampathy:
We love using CHARLE's elastics for our clothing and hair accessories because they are made from natural and biodegrable raw materials, produced ethically, and they stretch beautifully for extra comfort which allows us to remove the need for fasteners such as zips and buttons in most of our designs.

We have consciously chosen not to use the industry-standard elastic bands which are made using non-biodegradable synthetic polymer, polyester, nylon and spandex.




femitale is a sustainable and holistic female* care brand that accompanies menstruating persons through all phases of their cycle (and life). In addition to cycle health supplements and period underwear, loungewear pants and warming scarves are also offered. These provide space in the front and back for the hot water bottle or other heat sources - so they stay where they are needed.
Lisa Maria, founder of femitale:
We use the bands from CHARLE Premium Haberdashery as cords and as elastics for our loungewear. They keep their shape even after frequent washing and use of our loungewear, we are really very satisfied!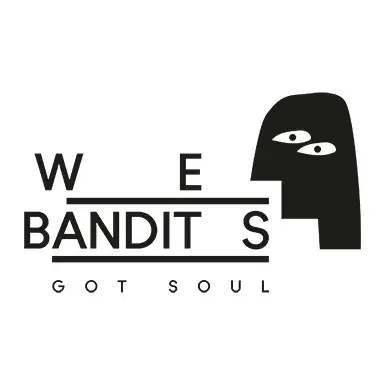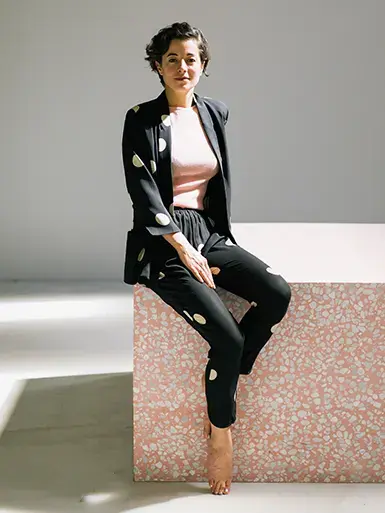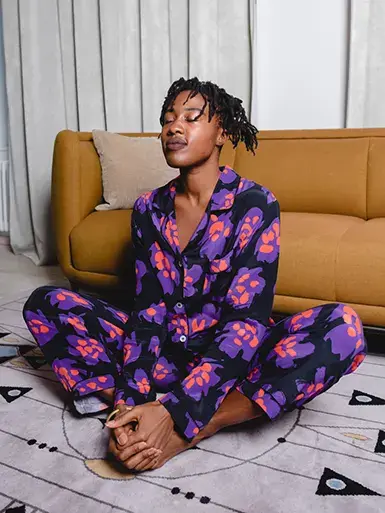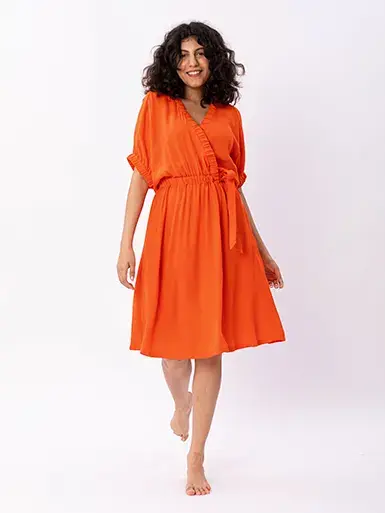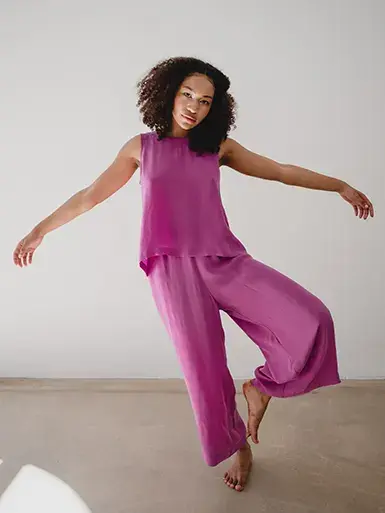 WE Bandits loves fashion and they love what fashion can do to us. Their goal is to make fashion that accompanies women in their complex, multifaceted everyday lives, that can cover everything from the office to a relaxed summer wedding with a change of shoes, while being comfortable and timeless and, most importantly, truly sustainable and biodegradable down to the smallest detail.
Sophie, Founder & CEO of WE BANDITS:
In CHARLE - premium haberdashery we have found a wonderful partner on this journey - the elastics are in no way inferior to conventional elastics, but are made from organic cotton and natural rubber in Waldviertel (Austria). We use the elastics in almost all our products, because the female body changes and our favourite pieces should always fit, as they give us a secure good feeling - ideally every day!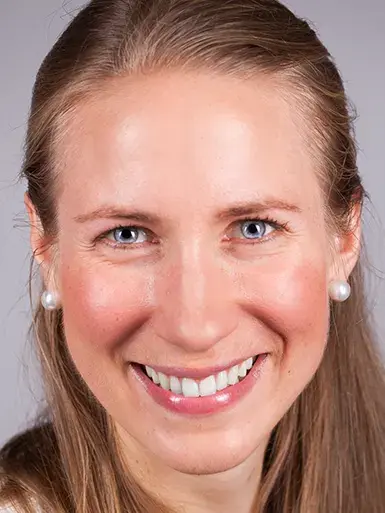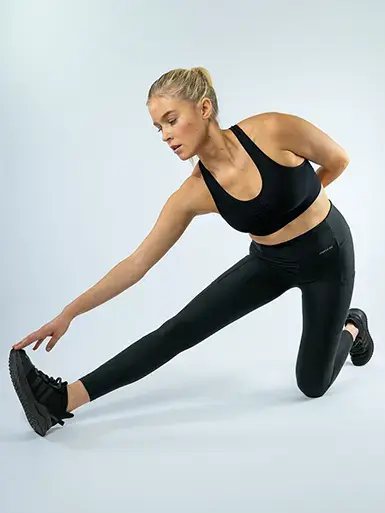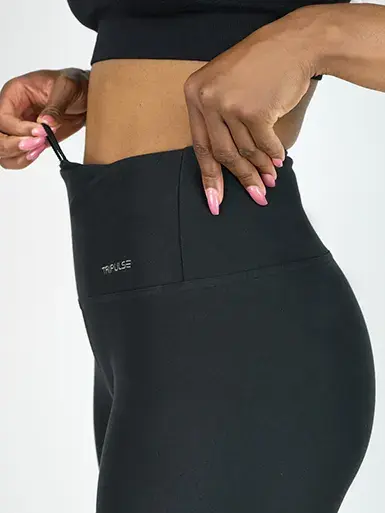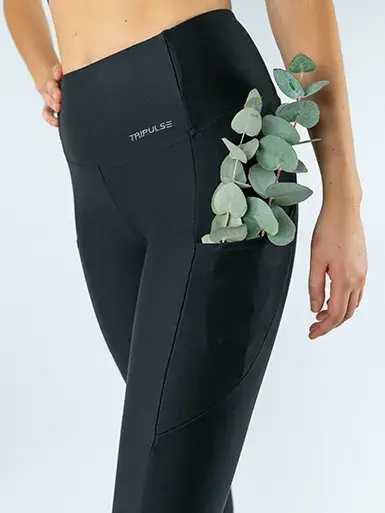 Tripulse makes nature-based activewear for the conscious athlete. Our products combine quality, comfort and performance with a user-centric and timeless design that have sustainability in their very DNA. Designed in Sweden. Made in Europe. Our mission is to create activewear free from harmful microplastic - and that holds even for the smallest details.
Franziska, founder of tripulse:
We were extremely happy to discover the elastic bands from CHARLE Premium Haberdashery made from purely nature-based ingredients - and we use these for the waistband drawstrings of our leggings. Thank you, Mandy and team, for creating such great products.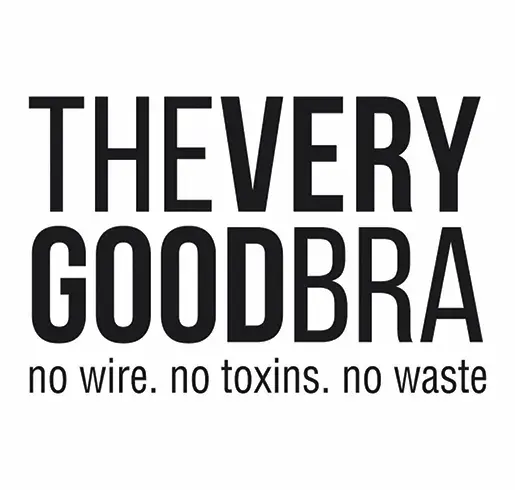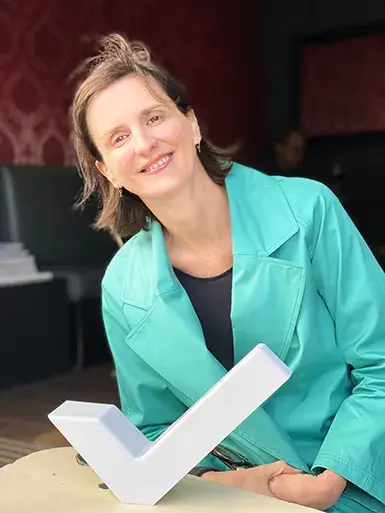 The Very Good Bra was launched in 2018 to address the issue of pollution caused by synthetic clothing manufacture, laundering and disposal. Bras are little things, but almost half the population wears one every day and they are amongst the least sustainable of garments using spandex, nylon elastic and polyester sewing thread. By sourcing clean materials we have created a botanically circular bra which is 100% compostable at end of life and was eaten in a worm farm in 8 weeks.
Stephanie, founder of The Very Good Bra:
Sourcing a 'clean' elastic was my biggest headache. Without Mandy and her unique, pioneering elastic developments, the project would have been impossible. Being the first to create something is very hard and a huge risk, and it's great to see the traction Premium Haberdashery is receiving in a world hungry for more sustainable products to challenge conventional synthetic ones. I'm delighted to continue working with them on new developments.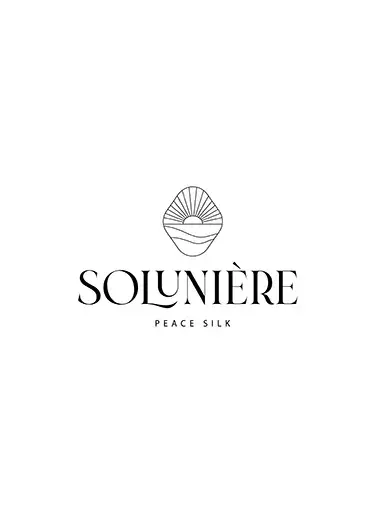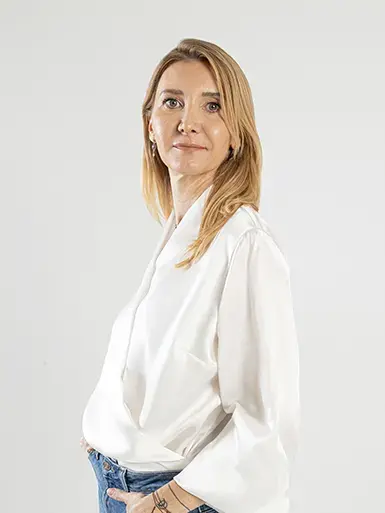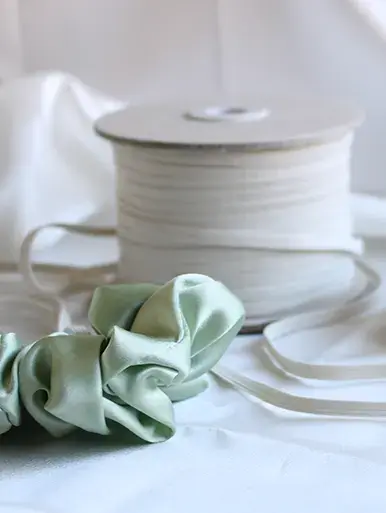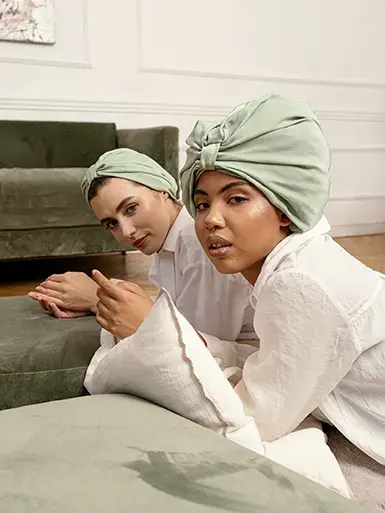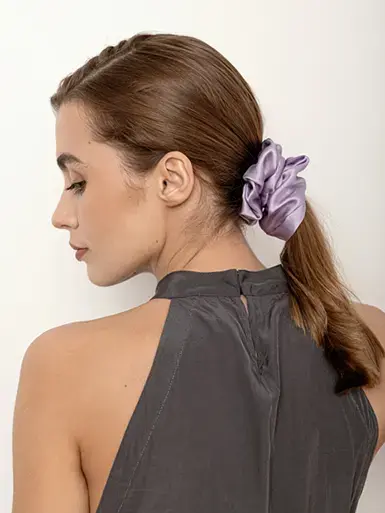 Solunière is a young company from Karlsruhe that produces sustainable, animal-free, fair-trade products exclusively from organic silk. The idea of doing something for one's own health, but also for the planet and thus for children and further generations, plays a very significant role. The company is dedicated to the production of silk products that are intended to make life a little more beautiful in the true sense of the word. Pillowcases, turbans, sleeping bonnets, eye compresses and scrunchies made of Ahimsa silk are gentle on the skin and hair and also promote a relaxed and comfortable sleep.
Yvonne, founder of Soluniere:
When I founded Solunière, I envisioned creating a company that was consciously committed to social responsibility, environmental protection and sustainable production. As our animal-free Ahimsa silk is a natural fabric, we wanted to create products that are completely compostable and therefore environmentally friendly. We searched for a long time for elastic bands that did not use polyester. The discovery of CHARLE - premium haberdashery and the current collaboration are a real asset to our company, as the sustainable elastics are the ideal complement to our products. Whether scrunchies, hair turbans or silk sleeping masks, we can now offer our customers items that are 100% degradable.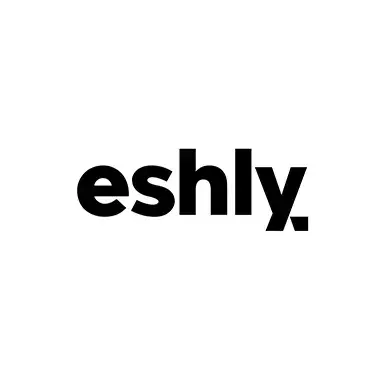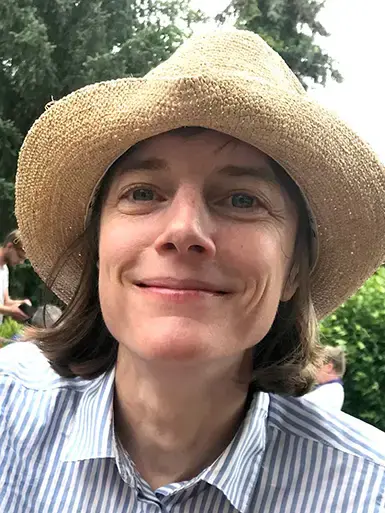 With eshly, Berlin-based industrial designer Britta Knüppel relies on a combination of timeless design, modern mechanical precision, meticulous craftsmanship and a good bit of patience. Pure ash wood becomes multifunctional, perfectly shaped companions for everyday life. Versatile, combinable, sensible, sustainable and beautiful. eshly is ideal for preparing fine meals or storing special things. When travelling, in the office, at school or in kindergarten. eshly combines many functions. At any place.
Britta, founder of eshly:
"I love your elastics because: It's unbeatable quality. They are strong and elastic for a very long time and don't wear out. They are made in Europe without plastic! With the production of the elastics, the weaving handicraft and family businesses in Europe are supported. It has been developed with a lot of dedication and love. And it's great to dye."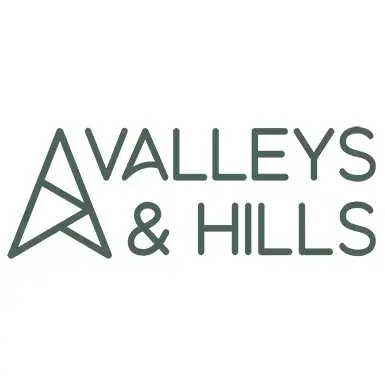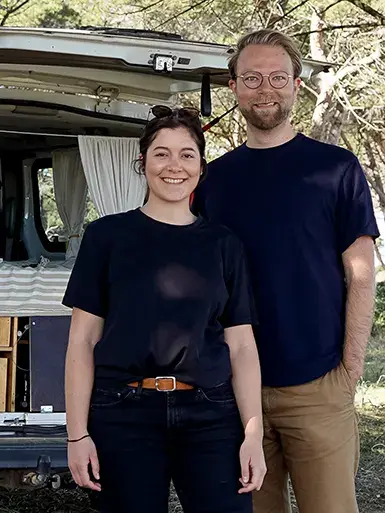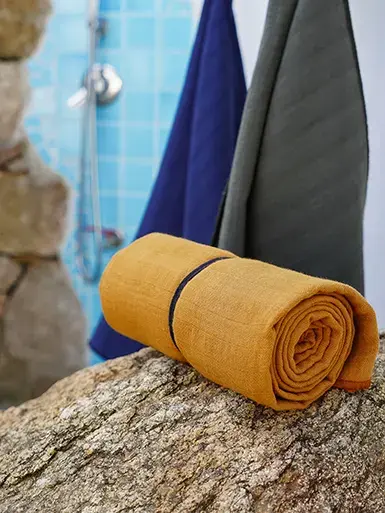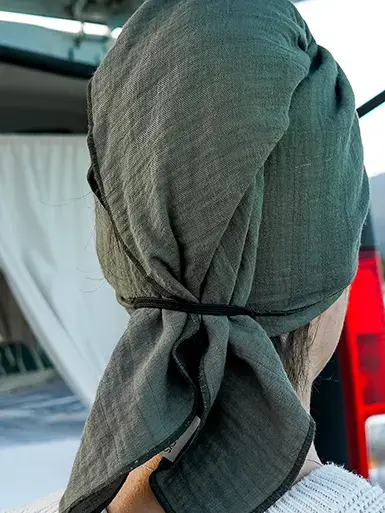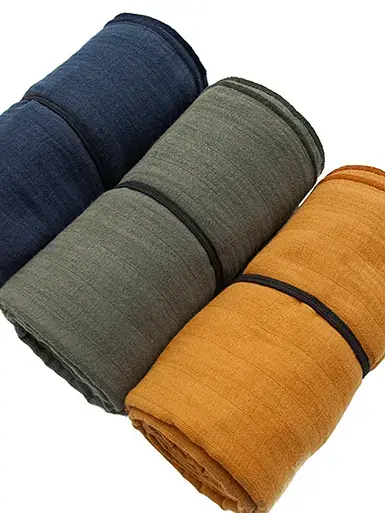 Valleys & Hills, is a young brand of sustainable camping products. The founders launched Valleys & Hills in 2020, when they realized that many camping products are harmful to nature, be it because they are made in Asia, the unsustainable materials that are used or due to the fact that many camping products break quickly. "On top of that, most of them just don't look good."
"Our products are characterized by sustainability, quality and design. We want to offer our customers actual favourite pieces for their camper that they really like and that will accompany them on their travels for a long time."
Christina & Andreas, founders of Valleys & Hills:
"When we developed our 100% organic cotton travel towel, it was clear to us from the beginning that the rubber loops on the towel should also be sustainable. Because all our products are consistently plastic-free. We were all the more pleased when we found the sustainable rubber bands made of organic cotton and natural rubber from CHARLE. We use them as rubber loops on our travel towels and can't imagine anything better!"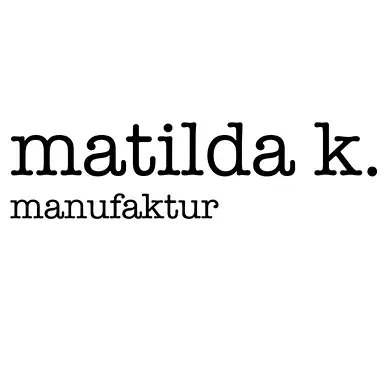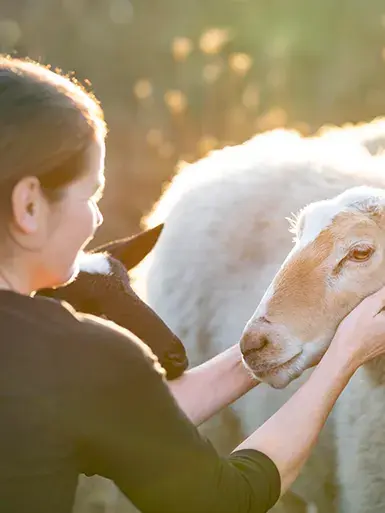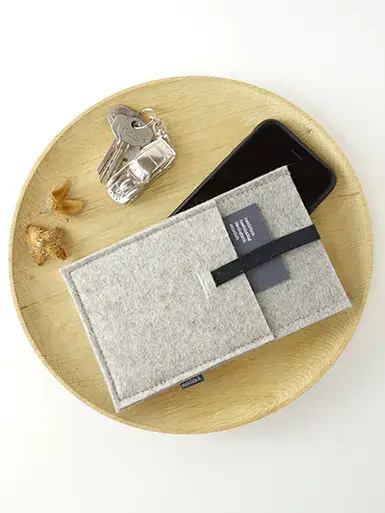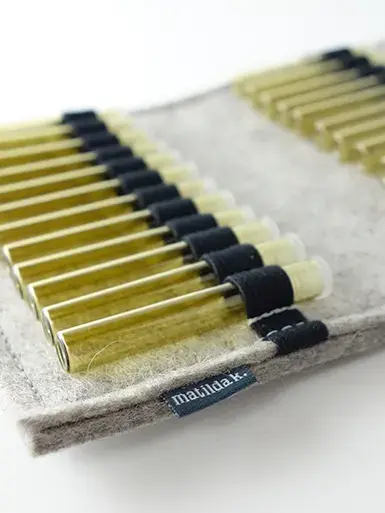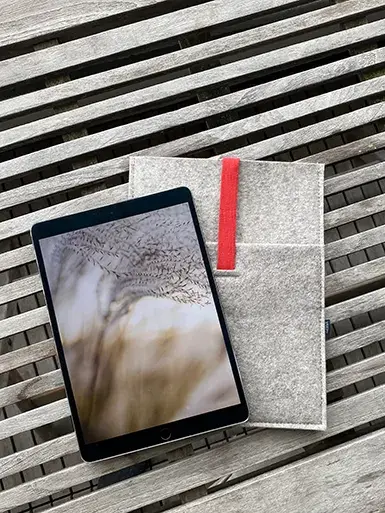 matilda k. stands for innovative, minimalist designed and handmade cases made of pure wool felt and leather.
The constantly growing collection includes simple spectacle cases, beautiful, unique cases for jewellery storage, mobile phone cases, tiny manicure sets, pencil cases, laptop and tablet cases and pocket pharmacies for homeopathic globules. To make sure that the leftovers are also recycled, they are turned into little everyday heroes such as cable ties, drop catchers, key rings and scented cushions.
The favourite pieces are made on site in Darmstadt in the small manufactory with great attention to detail. Carefully selected, high-quality and ecologically certified materials from Germany and Austria are used. The focus on sustainability and natural, plastic-free materials is a common thread throughout the entire creation process. From the design to the packaging.
Kathrin, founder of matilda k.:
I am very happy to have come across the CHARLE - premium haberdashery elastics, as it meets our demand for ecological and ethical harmlessness of the materials we use 100%. We currently use the rubber bands for our mobile phone and laptop sleeves, U-book covers and pocket pharmacies, but are in the process of creating even more possible uses, as we are very convinced by the quality of the bands.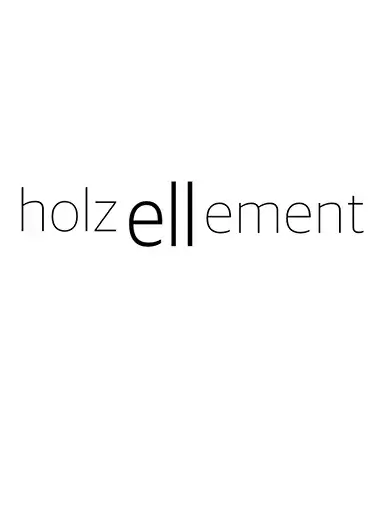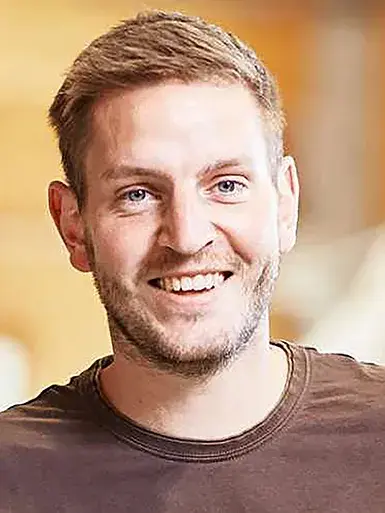 The master carpenter of holzELLement likes to share his passion for the unique material wood with others. His products are the expression of this enthusiasm.
Everything comes from his own hands. Whether development, production, sales, packaging, marketing or shipping: everything is done by himself. Thus, he can influence every aspect and offer his customers short distances.
Hannes Ell, master carpenter of holzELLement:
I was absolutely convinced by the quality and processing of the ribbon. The high-quality processed rubber bands from CHARLE - premium haberdashery make my product complete.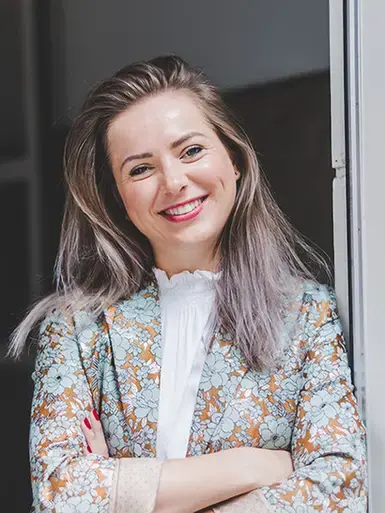 At nez living you will be inspired and motivated on your journey to a more conscious and meaningful life.
The three main pillars of this journey are: Wellbeing, Productivity and Sustainability. The goal is to provide you with the right organisational tools to manage your own life.
Vanessa, founder of nez living:
At nez living we make high quality and sustainable paper ware that motivates wellbeing and a productive lifestyle. Our materials are vegan and the quality of the ribbons from CharLe - premium haberdashery fit perfectly to our framework of values.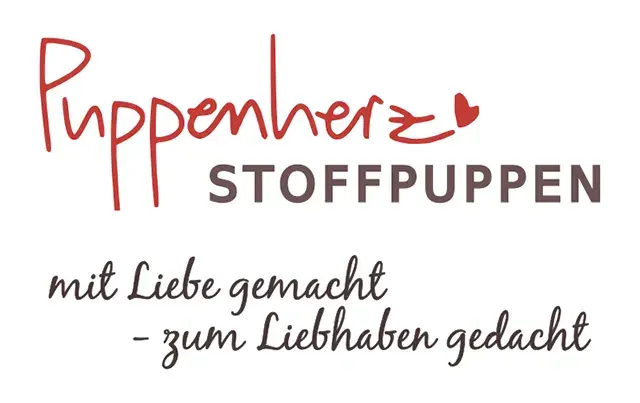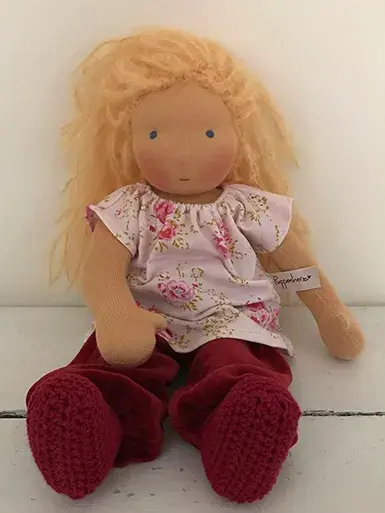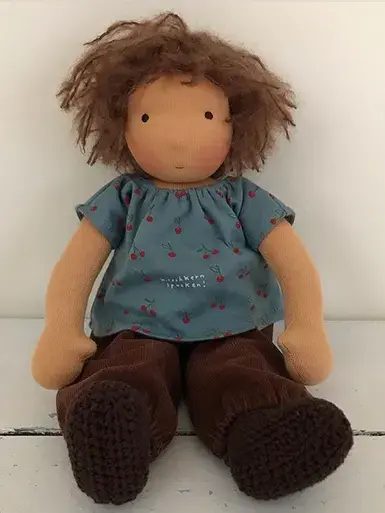 Christina lives with her family in a small village in Switzerland, surrounded by meadows of cherry trees.  Almost 10 years ago, she attended two courses in Berlin, where she learned to sew cloth dolls. The fascination of making rag dolls never left her. What was initially a hobby quickly became a small business on the side.
Christina, founder of Puppenherz Stoffpuppen:
I use the ecological elastic for my doll clothes. It is made of certified materials such as organic cotton and natural rubber and meets the high requirements of the European Toy Safety Standard 2009/48/EC. I attach great importance to natural materials. Especially these days, when plastic toys and electronics dominate the children's room, I think that every child should have a rag doll as a companion. Thanks to your grandiose commitment in the area of ecological rubber bands, I found what I was looking for with you. I am happy to have found your company and I can recommend you wholeheartedly.