That's us, the CHARLE Crew
We are a small, motivated team with many talents and work at CHARLE - premium habdersdashery, because we enjoy doing something meaningful and forward-looking.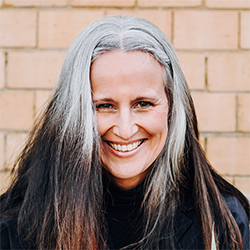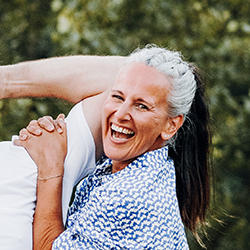 Mandy
"Just do it!" is her motto in life. With courage and optimism, she takes life by the hand according to this motto.

As a trained transport specialist, she has been organizing international air and sea transport for many years. In addition to logistics, she is passionate about handicrafts. Whether knitting, sewing, knotting, crocheting, pottery or carpentry - she processes everything that she can get her hands on and that makes her heart happy. So it is only a matter of time that she founds her own fashion label. From 2010 to 2023, she designs and produces clothes for babies and children that grow with them under the label CHARLE - sustainable kids fashion.

Because the quest for ecological elastic bands to be used in her children's clothing turned out to be a dead end, she simply developed them herself. What was initially intended only for her own use soon turned out to be a gap in the market. Another branch of the company is born: the development and distribution of the first circular ecological bands under the name CHARLE - premium haberdashery.

Her tasks besides saving the world are above all the development of solutions around rubber bands & co.

The "Backpack Berliner" (as Brandenburgers from the close Berlin area like to be called) prefers to spend her free time in nature. She loves social life as much as she loves silence.

She is socially and politically involved in various projects. The topics of justice and environmental protection are especially close to her heart: "If I want to change something, I have to get involved and help shape it. Simply do instead of talk!"

Since 2021, Mandy has been studying textile engineering with the need for knowledge transfer in order to be able to develop more future-oriented products.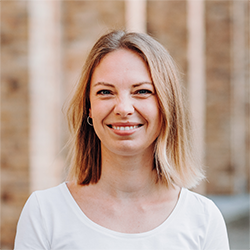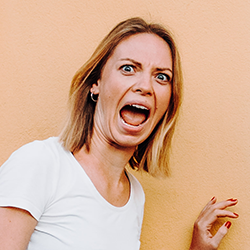 Linda
Linda loves languages and has always been drawn to faraway places. Which is why she spent a few years in the Middle East learning Arabic and getting to know the local cultures. Because "it's the unknown that excites (her) so much". Sustainable fashion and elastic ribbons were also unknown to the communications manager of a think tank at first. But she always loves exploring new things and getting involved in new topics. So, as Mandy's long-time friend, it so happened to support her in her project to establish organic rubber bands as a trademark. Because communication is her thing, Linda takes over the social media channels at CHARLE - premium haberdashery. Our newsletters also come from her virtual pen. (By the way, have you already signed up for our newsletter?)
She usually starts her day with some yoga and meditation to cope with the city madness and stay in balance. She loves fast-paced Berlin in all its cultural and political facets, but sometimes she needs a break from the hustle and bustle and claims some "ME time" with a cup of tea and a book or enjoy nature with her campervan or while diving.
"Social contacts and interactions with people of all kinds are important for me to get out of my own bubble and broaden my view," she says. That's why she likes to volunteer for different projects, whether it's an ideas café with refugee women, a solar project in an S.O.S. children's village on Cape Verde or simply collecting rubbish in the park with friends. "Minus waste" is an important concept for her "take more waste with you than you have produced when you sit in the park".
She shares the values of the sustainability concept and is happy to contribute to real sustainable fashion at CHARLE - premium haberdashery.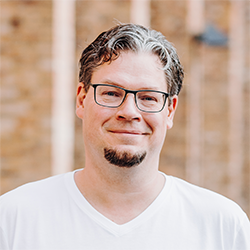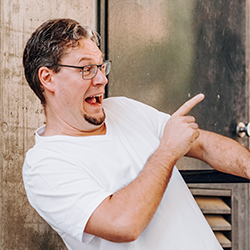 Oliver
The man for any eventualities. Nothing runs here without Oliver. He is a true all-rounder.
As an IT specialist, he makes sure that we have the necessary software and hardware applications and that everything runs smoothly. He finds the right programmes and tools for our needs, develops them individually and has an answer to all our questions. His great strength is the analysis and optimisation of our processes. Nothing simply escapes his eagle eyes. That alone is a gift.
But it gets even better: he takes care of all the logistics: procurement, transport, storage, packaging, customs clearance and shipping. So you can be sure that every package you receive from us has passed through his golden hands.
In his free time, he has devoted himself to fine (and sometimes loud) sounds. His musical love belongs to EBM (Electronic Body Music) and has been since the end of the 80s. Back then, he even played in his own band "Mastertune", which is undoubtedly a household name in the Berlin scene. Today he still drums passionately after work. It is said that there have already been neighbours who have been enthusiastically convinced by his melodious sounds through the brickwork.
But that is by no means all that our Berlin jack of all trades has to offer. As a former canoeist (GDR runner-up in C2 - Olálá!), he is involved in the local swimming club KSV Neptun 1889. He trains children how to swim and supports talented youngsters, some of whom have already made it to Berlin's elite sports school.
Well, so much talent makes your heart swell, doesn't it?
The history of origins
In 2010, Mandy Geddert established the sustainable children's fashion label CHARLE. The aim: to design children's clothes that grow with their wearers and are produced in a process that is as environmentally friendly as possible. When striving to achieve this aim, she was confronted with a huge challenge to which no solution could be found: searching for an ecological alternative to conventional elastics for trousers and skirts. With support from an Austrian ribbon manufacturer, she therefore quickly decided to develop the world's first proven ecologically sound elastics. After a good yet intensive six-month period, she was finally able to produce her first elastic ribbon.
Bridging a gap in the market
What was initially designed to solely meet the label's own requirements soon turned out to be a solution that could bridge a gap in the market. A number of different designers and haberdashery shops became aware of the ribbon and ordered their first lengths.
It wasn't long before these were joined by further elastics in different widths and colours and with special properties, which soon established a strong reputation both in Germany and further afield. The standard range now contains more than 50 elastic and non-stretch ribbons. Their areas of application extend far beyond the world of fashion, with product designers and companies in the sportswear, toy and automotive industries all choosing this alternative to conventional ribbons.
What characterises our sustainable organic elastics and ribbons
Made of certified organic cotton and natural rubber
Free from child labour
Available in different widths and colours
Washable from 40 to 60°C (depending on the product)
5 % to 10 % shrinkage
Environmentally friendly
Biodegradable
Recyclable
Vegan
Plastic-free
Tested against chlorine and heat
A longer lifespan than conventional elastics
Minimum order quantities: 1 m
Designed by Mandy Geddert in Berlin, Germany
Manufactured by family-run business in Austria
Behind the scenes:
The production team
Repairing the future
an initiative of ORF Ö1
We are open to all kinds of questions: About products, ingredients, packaging, shipping, retailer information, press material, cooperations and anything else you can think of about our activities. Simply use our
contact form
.